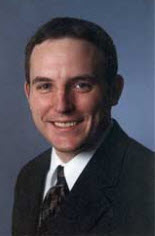 Sister Rosalind Massage & Wellness Center is pleased to offer the Chiropractic services of Dr. Kurt Brausen, a graduate of the Northwestern College of Chiropractic.
Dr. Brausen is at our Burnsville clinic on Tuesday and Thursday and at our Highland Park clinic on Monday, Wednesday, and Friday.
I believe the combination of massage and chiropractic is a very powerful approach to improvement of the overall health of the body and mind. The combination of these two fields maximizes the benefits for you by means of natural, safe and effective health care.
Chiropractic Schedule

In Dr. Brausen's Words
I was born and raised in Pierz, (a small town in central Minnesota). I graduated from the University of Minnesota at Morris, where I majored in Biology and minored in Chemistry. Dr. Brausen and his wife, Deaynn have three wonderful children. While going to college, I injured my lower back. After going to various health care providers, I began seeing a chiropractor. Within a few visits my back pain was gone. Upon graduating from Morris, I decided to devote myself to the chiropractic profession and enrolled at Northwestern College of Chiropractic in Bloomington, Minnesota.
While at NWCC, I have completed a wide array of coursework, including elective courses in acupuncture. Other areas of chiropractic I find particularly interesting are whiplash trauma, sports chiropractic and spinal rehabilitation.
My interest in chiropractic sprouted from my desire to work directly with people and provide treatment based on the cause of an ailment instead of its symptoms. Chiropractic is a form of health care that believes structure affects function. Chiropractic is based upon the philosophy that the body has an intrinsic ability to heal itself.
Generally speaking, chiropractors treat structural and biomechanical abnormalities in the body. These abnormalities alter the normal function of the nervous system. The nervous system is known to affect every cell, tissue and organ in the body.
By removing or decreasing structural and biochemical abnormalities, the nervous system is allowed to function at its optimal level. This allows the body to repair damaged tissue, decrease pain, decrease the likelihood of re-injury, and decrease the likelihood of further damage to the body.
I would be honored to assist you with your health care needs.