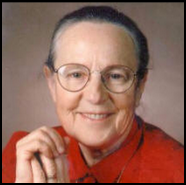 Sister Rosalind Gefre was born in 1929 to German immigrants who had a farm near Strasburg, North Dakota, the hometown of the famous television personality Lawrence Welk. Growing up, Sister Rosalind spoke German in her home and suffered the tragic loss of her father at the age of six.
Perhaps a foreshadowing of her life to come as a nun dedicated to healing was the selection by her parents of her birth name of Margaret. For her confirmation name, Sister Rosalind took Margaret Mary after a Saint she dearly loved –Saint Margaret Mary Alacoque, who was born in France in 1647. As a child, Saint Margaret was confined to bed with paralysis for four years. After making a vow to the Blessed Virgin that she would consecrate herself to religious life, Saint Margaret was instantly healed.
"My patron Saint, Saint Margaret Mary Alacoque, I admired very much. I read her life over and over because I could identify with her. She was uneducated, nobody great in the eyes of the world, but Jesus loved her and chose her out of all the convent. My background did not get me ready to start schools and clinics, but the need was there and I jumped in and did it."
Promoting Healing Through Touch
In 1948, Sister Rosalind left for the Twin Cities in Minnesota to enter a Catholic convent to become a nun. She became a licensed practical nurse in 1968 and was assigned to Fargo, North Dakota. Her mother became terminally ill, and Sister Rosalind moved in with her mother for three years to take care of her. Her mother wished to receive massage therapy to help with her pain, and Sister Rosalind took her to someone who ended up also giving Sister Rosalind a massage which permanently healed her of a chronic chest pain that she had had for many years. Amazed and impressed with the power of massage, Sister Rosalind began studying massage technique and then began practicing massage at the Family YMCA in Fargo in 1973. Speaking of this turning point in her life, Sister Rosalind says:
"Before I knew it I was on the table and had a massage. And up to that time I kept having this chest pain that I always knew I'd die of because every night I went to bed, I had to get up and walk around or sit up in bed because that chest pain would not go away. The days were not bad but the nights were horrible. Once I received that massage, the pain I had suffered 20 years with ended. That's when I began learning more about message therapy"
Sister Rosalind was then assigned to go the Twin Cities, and had several very challenging years of overcoming obstacles and opposition to her mission to bring healing to people through massage.
"Well, the major obstacle basically was the community. When I started, the fact that many people looked at massage as being very dirty, like occasionally they'd walk away from the table, they'd pick up their food and go to another table, if we were going into an elevator, they'd push me out of the elevator or they would get off so that they wouldn't be with me in the same elevator. I lost my happy home when I started massage because massage was considered very dirty, and those were really the hardest things that I had to overcome. But I guess I believed in it and I was able to overcome, I guess, because I believed, you know, when God calls you, he calls you. And no matter what happened to me, Iwould  simply turn to prayer.

God gave me the strength to go on, but many times I just thought why in the world don't I just give up. I thought, let's give up and forget about it all. But I really couldn't because I felt a call. And it's that same call as I had as a nun. And sometimes I wanted to leave the Sisterhood and I would think, oh, it's not worth it. I was forever running into all kinds of obstacles even before massage, and I wanted to very many times just leave and forget about the whole dream. And I had that same feeling with massage as I did with being a nun but God called me and so I continued on with it."
Eventually, Sister Rosalind opened her very first clinic in 1983 on Grand Avenue in St. Paul, Minnesota, and made headlines in the newspaper when the Vice Squad shut her down for not having a license. At that time, massage "parlors" were associated with prostitution, and Sister Rosalind was pioneering massage as a healing art.
Official Massage Therapist for the St.Paul Saints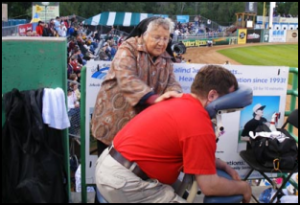 A popular attraction with the St. Paul Saints baseball team, she can be seen giving massages at every game. She has been featured on television, in newspapers and magazines, and has given hundreds of speeches to groups. Known for her warmth, her caring, and her expression of God's love through healing touch, her massage schools and clinics are based upon Christian principles. The mission is to promote healing of the body, mind, and spirit through touch. Sister Rosalind believes that God created our bodies to function in health to achieve the fullness of life, and the massage schools and clinics seek to work in harmony with God's plan.