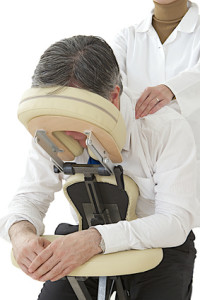 Looking for a Great Way to Motivate Employees? Try On-Site Chair Massage

On-site massage is becoming one of the fastest growing employee wellness benefits that companies offer.
Chair massage is a safe, convenient and cost-effective program that boosts employee morale and provides valuable health benefits. On-site chair massage starts at just $80 per hour/per therapist!
In additional to chair massage being part of an overall health & wellness program, chair massage is perfect for:
Company Events
Holiday Parties
Sales Contests
Marketing Events
Employee Appreciation
A Health Fair Day
End Of A Successful Quarter
Tradeshows
General Health & Wellness
How Chair Massage Works
We provide licensed massage therapists and specially designed massage chairs. Each massage is anywhere from 5-20 minutes in length that focuses on the upper part of the body including the neck, head, shoulders, back, and arms. No oils or lotions are used so recipients are fully clothed. Massages can be given in a public place such as a break room or meeting room.
Benefits to your Company
Boost Employee Morale
Reduce tension, pain, and improve circulation
Increase employee productivity
Relieves repetitive stress injuries
Revitalize energy
Increase employee retention
Increase feeling of well being
In addition to chair massage, our program can also include self-massage training, massage demonstrations as well as educational seminars that cover topics such as carpal tunnel syndrome prevention, and the value of touch massage. Call 651-698-9123 for more information or to schedule your event!