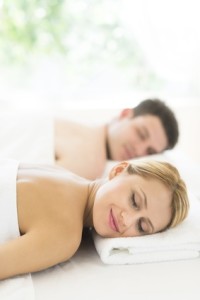 Couples massage is offered at our highland location only.
A couple's massage brings two people together in a shared experience. During a couples massage two people are massaged in the same room, at the same time by two different therapists. Couples massage is very popular among married couples but can also be enjoyed by moms and daughters or even good friends.
Relaxing Swedish-style massage is the most common requested technique during a couple's session but each person is able to choose the treatment that best suits their needs. Our therapists will talk with you before your massage and develop a plan specific for you.
If you are new to massage therapy, scheduling a couple's massage session is a great introduction.
Benefits of Massage Therapy
Regular massage provides many health benefits including but not limited to:
Relieves Stress
Encourages Relaxation
Improves Posture
Improves Circulation
Lowers Blood Pressure
Helps Manage Pain
And Much More
At Sister Rosalind Massage & Wellness centers we offer a variety of massage types and enhancements to choose from. Our dedicated massage therapists can help your body and mind de-stress. Call  651-698-9123 to schedule your couple's massage today.